Protecting your patio or parking space from heavy precipitation requires a total coverage solution. Look to L & S Seamless Guttering to provide you with patio and carport covers that are ideally suited to shield your space and jettison rainwater away from your slabs and foundation. We'll make sure you get the convenience of a dry area and proper drainage, all in one.
Patio Cover Services
Our patio cover services in Blanchard, Newcastle, Oklahoma City, and Norman, OK include fabrication and installation of all-steel construction covers, designed specifically for your outdoor space. We can design and fabricate covers that are either freestanding or attached to your home, integrating a drainage system with your existing roofing.
Our designs ensure your patio slab stays dry and that any runoff is properly collected and deposited away from the area, to mitigate slab sinking or moisture saturation.
Carport Cover Services
Whether you have a carport in addition to a garage or as a standalone installation for your vehicles, it's important to ensure it's shielded against precipitation. We offer carport cover services in Blanchard, OK to keep your slab and anything parked on it dry and protected. With properly configured runoff and guttering systems installed, any rainfall will be deposited away from your carport.
For our carport covers, we stand by an all-steel construction for longevity and durability. We can also provide them as freestanding installations or in conjunction with a home or garage.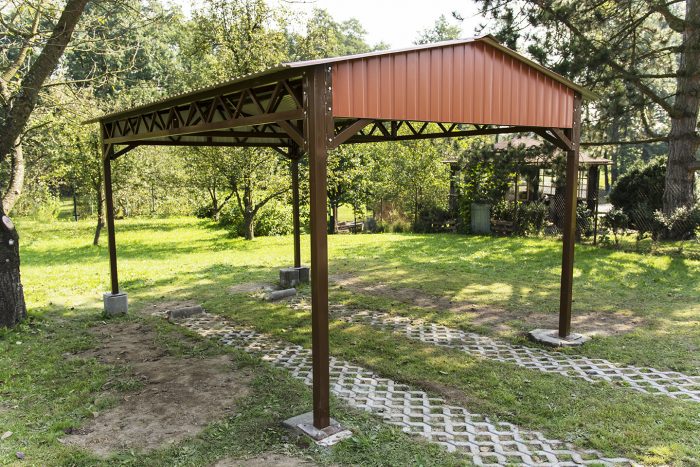 Protect Your Slabs
Don't let heavy rainfalls saturate the ground and cause your slabs to sink or shift. Invest in a patio or carport cover solution from L & S Seamless Guttering and make sure your outdoor spaces are protected at all times. Contact us today at 405-392-4487 for more information about custom fabrication, gutter installation and repair, and gutter rain guards, or to get a free estimate. We'll be glad to come out and consult specifically for your space, no matter the size or placement of the slab.